At the beginning of the year millions make a commitment to stick to a fitness regimen. By the time February rolls around less than half are still working at their fitness goals.
And when diagnosed with chronic obstructive pulmonary disease (COPD), it's vital to your overall health that you stick to your fitness goals and exercise regularly.
Hopefully you have worked with your physician or respiratory therapist to come up with a fitness plan and these are some strategies to help you stick to the plan throughout the year. February is also heart health month so keep that blood pumping!
Make it Easy on Yourself!
Easy doesn't mean going back to bed or curling up on the couch but inconvenience is going to make sticking to anything a challenge.
Pick a place or activity within a 10 minute drive or work or home.


Pack any clothes or equipment you'll need the night before.


In the beginning it may be easier to work out the same time and days each week until it becomes routine. Instead of saying 4 days per week, say Monday from 6-7 I will go to the gym. Wednesday and Friday from 6-7 flexible activity. Saturday from 10-12 Yoga.


Prepare COPD friendly meals ahead of time. To save yourself some time and money prepare some healthy lunches and snacks at the beginning of the week. Searching for something nutritious when you're already hungry is asking for trouble.
Allow Yourself Some Flexibility

Instead of saying you're going to commit to working out 5 days a week when you work out 0-1 days a week now, that's a huge schedule change.
Counting sets and reps can become monotonous in a short period of time. Instead, commit to doing what you're already doing then perhaps waking up 20 minutes early to do 30 crunches and some jumping jacks.
Then on alternate days do 30 push ups and plank for as long as you can, increasing the length each time you do it.
Committing to a period of time per week that you are going to devote to healthy living is much more effective.
The definition of that can be as broad or specific as you would like to make it. It can mean strictly physical activity, or include, planning and preparing healthy meals for the week, or engaging in a meditation practice.
Give in to Your Whims
Setting aside blocks of time to go to the gym can be overwhelming and ultimately un-motivating. Especially when dealing with increased levels of fatigue. Instead, work from the perspective that you're committing to a certain amount of time per week to do something to improve your health.
If you want to commit to 5 hours per week or 45 minutes per day keep it flexible. Forcing yourself into the gym when you're not in the mood to be at the gym will certainly make your workout less effective and you're more likely to cut corners.
If it's a nice day, go for a brisk walk.


Challenge the kids to a game of Wii Tennis or Dance Dance Revolution.


If you're in the mood to shop do a walking lap around the mall at a brisk pace first or head to the stairwell for some incline sprints, then let the retail therapy begin.


Find a pickup game of soccer or basketball in a near-by park.


Rake the leaves or weed the garden.


Explore a museum and take the stairs between floors.


Find a tennis or racquetball partner.


Sign up for a fun new activity like indoor rock climbing, trapeze class, take kickboxing classes, or join a hiking or cycling meet up group.


Hit the pool or the skating rink.


Join a rowing team.


Help your neighborhood or community by cleaning up, building trails, helping with charity home building, collect goods for the food bank, plant some trees or veggies at the community garden, or do some yard or cleaning chores for an elderly neighbor.
Craft Your Own Incentives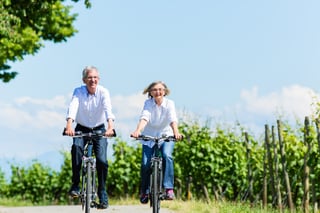 "Know your why," has become a battle cry for those in the business world but it applies here as well. Motivations are different for everyone and knowing what gets you pumped up and excited is going to make the road to a happier and healthier state of mind, far less bumpy.
If you're a gambler and dropping a few pounds is your goal, check out Diet Bet or Healthy Wage. Issue a weight loss challenge to family or friends who are also trying to lose weight. Those who achieve their weight loss goals split the pot while those who don't, get nothing.
Sign up for a 5K walk or run. To add extra incentive, make it one out of town. Doubling down with airfare and hotel should hold you accountable to ensure you're in shape to complete the challenge.
Book a vacation that's going to be a physical challenge. Hiking volcanoes in Hawaii, a Machu Picchu trek, or even climb the stairs of the bell tower of St. Mark's Cathedral.
Where ever or whatever is going to get you out and doing the healthy activities you've committed to is fair game!
Measure Success in a More Holistic Way
It's a good idea to keep track of weight and measurements to track progress but make your main goal to just feel better.
Goals like, I want to be able to complete the hiking trail by my house, I want to be able to play basketball with my kids for an hour, or I just want to be sleep better and have more energy.
There may be a time when you'll want to measure your time on an endurance run or measure sprinting a mile.
There's nothing wrong with keeping track of waist or biceps down measurements, but today we're talking about getting in the swing of healthier living.
If you're comparing yourself to people on magazine covers or the trainers at the gym, motivation can drain very quickly.
If your clothes fit better, your energy levels are up, and you can do some of the things that you used to not be able to, use that as motivation for tougher fitness goals in the future, and just recognize that you're doing great!
Want a FREE downloadable copy of this post? Click the image below! In addition with your download, you will also receive a FREE goal and healthy habits schedule. Allowing you to outline your fitness goals and plan your healthy habits so you know exactly what to do each day.