We have yet another incredible personal story with COPD. Today's story is about Tina, who was once a smoker for 30+ years but was successfully able to quit smoking 6 years ago! But unfortunately Tina damaged her lungs enough that she was diagnosed with COPD emphysema 4 short months after. Despite having a moderate stage of COPD today, Tina is still able to spend time with her son and husband, work part-time and enjoy many of her favorite activities! Not only is she active but she works hard at spreading COPD awareness, her dedication has lead to her becoming a COPD Advocacy Captain for the COPD Foundation in the state of Pennsylvania.
What was life like leading up to your diagnosis?
I'm the type of person who loves to stay busy. For many years than I'd even care to recount, I spent every day at work to then come home and clean my house, do my yard work or wash clothes.The work load of raising my son and taking care of my family didn't take up exactly all of my time. I'd be more than happy to spend the rest fishing and enjoying the rest mother nature has to offer. In 2009 my life changed completely. While working in a sewing factory I'd often wear a mp3 player in my ears singing along to the music. I noticed I was becoming easily short of breath. Then I noticed how short of breath I would become just by doing everyday things.Taking a bath and laying down to bed. Then I went to the American lung Association and started to read. I made up my mind I was going to quit smoking for good. I smoked for 30+yrs going on 3 pack a day. My son told me if I quit he would quit. October 8,2009 we had our last cigarette. In February 2010 I was still experiencing shortness of breath more frequently. I had a Pulmonary Function Test and a CT scan and was diagnosed with COPD Emphysema. Mild at first I am now in moderate stage of the disease.
How have you adjusted your lifestyle post-diagnosis?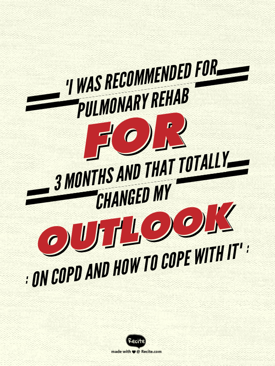 I was recommended for Pulmonary rehab for 3 months and that totally changed my outlook on COPD and how to cope with it.I take Spiriva, my nebulizer daily and I carry a rescue inhaler. I also have regular acid indigestion, a health issue that seems to go hand in hand with COPD
What friend/family members provide support? How?
My husband and son. They were there to pick me up when I felt like I could not keep going. The support and love they have shown me keeps me going. The COPD Foundation was always there to listen and putting my story out there to help others. My Fellow Facebook COPD'ERS for always giving me the strength to keep doing what I do.
What is your greatest achievement in life that you are most proud of?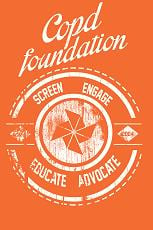 Quitting smoking ...Being a Face of COPD as well as a State Advocacy Captain of Pennsylvania for the COPD Foundation has given me the courage and the fight for Quality of Life.
If you were talking to someone recently diagnosed with COPD, what's some advice you would give them?
Being diagnosed with COPD is a life changing event. Sometimes we do get the support from family
and friends that we'd expect or need. They don't understand because they don't even fully realize what COPD is. I highly recommend to contact the COPD Foundation. They give valuable guidance and support through their info line. I'd also recommend reading the book Live Your Life with COPD by Jane Martin. It is a must read for a COPD patient, caregiver and health care professionals.It has taught me there is so much I can do and I don't have to give up because of COPD. Encourage your Doctor to get you into Pulmonary Rehab. It will teach you techniques to breath, teach you how and the importance of exercise and eating right. Always Keep Hope in your Heart.
What was the hardest thing to cope with after your diagnosis?
To accept it. It still is hard sometimes to accept. There is that saying Good and Bad days. When i have many good days I feel like I am not a face of COPD . Than I have some really bad days reality sets in again.
What else should we know about you?
I am still in the workforce part time. I will be married 30 years this year to my Best Friend. I also will be turning 50 this year. I have a wonderful son.I have a Beagle "Laney" a German Shepherd Pup Gabby and a Tortoiseshell cat Prudence. I love Bird watching and love to get Bluebirds nesting. I love to Bass fish.