On today's Share Your Story segment we have Russell Winwood, a loving father and husband that goes against all odds and is still able to compete in ironman events and triatholons despite being diagnosed with stage 4 COPD. He will share his personal experiences and how he is able to overcome his disease by staying active and healthy. You may have read about Russell's COPD journey on his blog copdathlete.com, which was nominated by Healthline as one of the top COPD blogs of 2014. When you're done reading his story don't forget to donate to his crowdrise fund to help him participate in the New York City Marathon as apart of the American Lung Association of the NE marathon team, which takes place November 1, 2015. If he reaches his goal of $5,000 he will be the only COPD patient on the team, lets help Russell reach his goal!
What was life like leading up to your diagnosis?
I had a life changing moment eight years before I was diagnosed in the form of what Doctors thought was probably a stroke. I had been leading an unhealthy life prior and this event made me realize I had to change my ways. I slowly began to exercise and life become more enjoyable as my fitness level improved.
How have you adjusted your lifestyle post-diagnosis?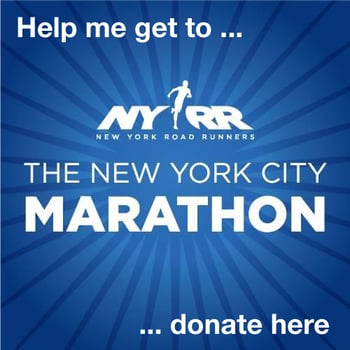 After the initial shock I came to realize the best way to fight COPD was to be as fit and healthy as possible. Before I was diagnosed I competed in triathlons so I decided I would continue to try and compete in these events. I never thought that I would end up doing 3 Ironman events and counting. Day to day life I still work between 8 and 12 hours per day, while I'm continually breathless my energy levels are good.
What friend/family members provide support? How?
My wife is my biggest supporter without a doubt, Leanne's ability to carry the load when I'm training and trying to keep myself well is amazing. She always has new ideas for me to try or look into that will help my well being. In the early stages Leanne had me seeing a Chinese Doctor which actually helped me regain my energy levels to the point I could start to build my exercise capacity. Our Kids, family and friends have always been there when needed providing a solid support network, something that is very important when managing COPD.
What is your greatest achievement in life that you are most proud of?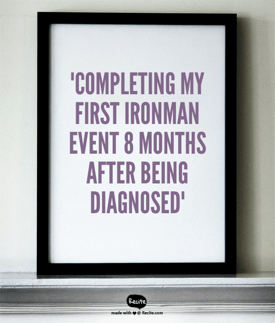 Completing my first Ironman event 8 months after being diagnosed, I made the cutoff time by 9 minutes and 6 seconds. It was a physically and emotionally challenging day.
If you were talking to someone recently diagnosed with COPD, what's some advice you would give them?
That's easy as it's what I preach everyday. Employ a good Respiratory Specialist, build a healthy lifestyle that incorporates taking your medication as prescribed, make healthy eating choices and exercise like your life depends on it. By doing this you can slow the progression of COPD and have a good quality of life.
What was the hardest thing to cope with after your diagnosis?
I made the mistake as many do of searching Google for what life would hold for me now that I had COPD, and all I read was how bad things would become.This played on my mind as I thought back then that someone with "stage 4" COPD doesn't have much time left. Once I decided that this was not the outcome I wanted my mindset changed.
What else should we know about you?
I am a strong believer that most of life's challenges can be overcome by having a positive frame of mind and being mentally strong. My life nowadays is dedicated to showing fellow patients how to be COPD empowered!
A Documentry About Russell's First Ironman Event in 2012: Ironman Australia Port Macquarie