We had the pleasure of meeting Molly Danehy over the phone several weeks ago. She started her own fundraising campaign trying to raise money for an oxygen concentrator and for other medical bills. Molly is 34 and suffers from cystic fibrosis.
Cystic Fibrosis is a genetic disease that causes damage to the lungs and digestive system. The defective gene that causes it impacts the cells that produce sweat, mucus, and digestive juices. The consistency of these liquids is generally rather thin and slick but in cystic fibrosis sufferers they are thickened and become sticky. Digestive tubes and ducts, as well as passageways in the lungs then become clogged. Cystic fibrosis can affect many organs but mainly impacts the lungs, pancreas, liver, intestines, and sinuses. Mucus buildup provides a fertile place for bacteria to grow increasing the risk of infection. Overtime, repeated infections can severely damage the lungs. Blocked tubes and ducts in the pancreas prevents enzymes from reaching the small intestine. This prevents proper absorption of fats and proteins leading to vitamin deficiency and malnutrition. To learn more about cystic fibrosis, go to the Cystic Fibrosis Foundation website.
Unfortunately there is no cure for cystic fibrosis but there are treatments available that both prolong and contribute to the quality of life for cystic fibrosis patients. They are living longer and longer and many are able to attend school and work regular schedules. Molly was working in a medical office until a couple of years ago when a severe bout with pneumonia caused serious damage to her lungs. As things stand now she is awaiting a double lung and liver transplant. She's got a great attitude and doesn't like to let her need for medical oxygen keep her down. She's looking forward to taking a trip to California to visit loved ones and just being able to live an independent life again. We were happy to provide her with a SeQual Eclipse 3 package so that Molly can get on with living a full life. Please join all of us at the COPD Store in wishing Molly the best of luck with her upcoming medical treatment. We are looking forward to hearing updates on her progress.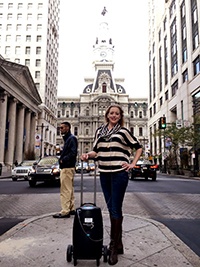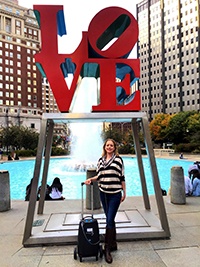 Molly hails from the City of Brotherly love and sent us some pics with her new concentrator in front of city hall and at Love Park in City Center. Molly Shared Her Story below:
I was diagnosed with cystic fibrosis at the age of three. This is a chronic, life threatening illness that has affected my pancreas, spleen, liver, lungs and digestive tract among other things. Only 70,000 people worldwide have cystic fibrosis (CF), 30,000 in the United States. There are roughly 1,500 different mutations. My exact gene mutation is F508del, which affects 50% of CFers. This mutation is one of the more severe mutations of CF. At the age of 34, I have reached a critical stage in in my life where the damage to my lungs and liver is so severe that doctors can do little to nothing to treat them. I am only able to use 35% of my lungs capacity, but with the possibility of getting back up to 40%-45%. The remaining percentage can never be used again, due to scar tissue, ultimately resulting in the need for a double lung and liver transplant in the future. Through the years I have prided myself on taking the best possible care of myself and I will not stop fighting despite my circumstances.

The end of August and middle of September this year has been especially tough on me. I have been admitted twice to the Hospital University of Pennsylvania (HUP), the first time was for a "tune-up." CFers use this term when they are admitted into the hospital for a week or longer, put on IV antibiotics and do lung treatments 4x a day along with meetings with dieticians, physical therapists and other doctors to talk about the best way to keep me healthy outside the hospital. The 2nd hospital trip was more intense, I unfortunately got to experience my first ride in an ambulance because I was unable to breath on my own. I was rushed from the ER to the ICU and was constantly monitored and put on 5 liters of oxygen. Before the troubles I had in August, I was put on 2 liters of oxygen at bedtime because when I slept I was not getting enough oxygen that my body needed. So as of today, I am on 2 liters of oxygen constantly. My life has been completely altered needing to be on oxygen 24/7. I can no longer leave the house for more than 2-3 hours at a time because that is all the portable oxygen that my insurance carrier supplied me with. While at home, oxygen is not an issue but to do something as minor as going to the grocery store, has become a hassle because I have to change oxygen canisters every hour and then worry about running late and then running out of oxygen. I'm hoping that as each day goes by my lungs will get back to where it was prior to my last hospital stay and I'll only need oxygen at night.

This is why a portable oxygen concentrator machine is so valuable, so I can take it anywhere and not be limited to just 3 hours max to go out of the house. Along with being able to even travel and see my family and friends throughout the country with an updated concentrator.