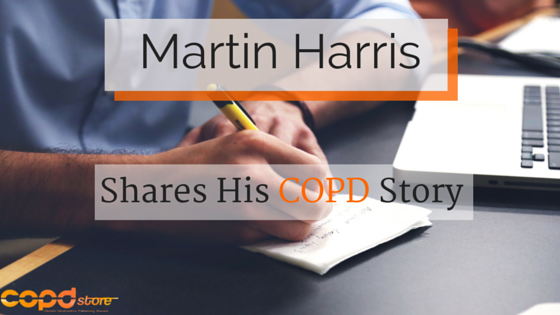 The COPD Store is fortunate enough to have Martin Harris share his personal story with each and every one of us about his life with chronic obstructive pulmonary disease. Martin is a dedicated family man, he has a loving wife, son and a daughter. Throughout his struggle with COPD his wife and children have been his number one support system throughout this entire experience.
There was even a moment when both him, and his son were in the hospital at the same time. Learn how Martin is able to live an enjoyable life on "his" terms despite being diagnosed with such a progressive and restrictive respiratory disease in today's Share Your Story.
What was Life like Leading up to Your Diagnosis?
Life was/is difficult. I had pneumonia, which started it all off, at the same time as my son (who was going through treatment for Leukaemia (ALL) at the same time). We both ended up in hospital with my wife running between wards.
How Have You Adjusted Your Lifestyle Post-Diagnosis?
I have had to go from working full time, in an office, to working part-time from home, just to be able to cope with all the infections that I seem to have continuously.
What Friend/Family Members Provide Support? How?
My wife and eldest daughter are excellent, they seem to really understand that when I need to rest I NEED to rest. My wife now has to do all the housework, as I am on the nebulizer twice a day, just to try and alleviate some of the symptoms.
What is Your Greatest Achievement in Life That You are Most Proud Of?
My children, and me gaining an HNC in computing.
If You were Talking to Someone Recently Diagnosed with COPD, What's Some Advice You Would Give Them?

Rest when your body tells you to. Make changes in your life to allow you to cope with infections and exacerbations.
What was the Hardest Thing to Cope with After Your Diagnosis?
Going from being quite active to having to live at a slower pace in life.
Conclusion
Just because chronic obstructive pulmonary disease is the 3rd leading cause of death in the United States doesn't mean you can't live a long, healthy, active and social lifestyle. Which is demonstrated by Martin Harris. By sharing your story you confirm that fact to other recently diagnosed patients that would otherwise take their COPD diagnosis as if it truly was a death sentence.