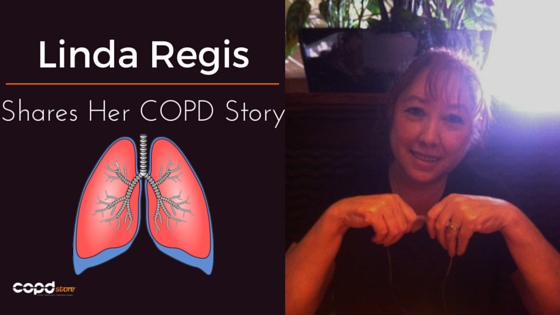 We have yet another exciting and helpful personal story of what it's like to live with chronic obstructive pulmonary disease (COPD). Today we hear Linda Regis' COPD story, who once lived a pretty normal and fast paced lifestyle. Up until Linda's COPD diagnosis she worked a typical 8-5 job, spent time with friends and family, and loved to enjoy the great outdoors by camping, fishing, or doing yard work. Her fast paced lifestyle is what made a family friend give her the nickname "rabbit".
A lifestyle that many of you were once accustomed to living, but that all changed with four letters, C-O-P-D. Losing the ability to do enjoyable or basic daily activities often leads patients down a road of depression, stress, and as a result worsening symptoms. However, that doesn't have to be the case and certainly isn't with Linda. Read Linda's story and hear about her daily struggles at the onset of diagnosis and how she is able to cope with her lung disease in the long term so she can live life on her terms.
Linda Regis' COPD Story
What was life like leading up to your diagnosis?
Before COPD I lived life with a 8-5, Monday-Friday job that I truly enjoyed. I have always been told that I seemed to always be in a hurry to get no-where fast, I even received the nickname,"rabbit" from a family friend during my childhood because of that.
I think also being a waitress at an Enlisted Club on base, serving many military functions during my younger years, taught me to kick one step forward into two jumps quick. I still cannot walk slow. I loved camping, fishing, yard work, just loved the outdoors and always on the go!
How have you adjusted your lifestyle post-diagnosis?
After being diagnosed I have had to change my mindset, I found with having end stage COPD that it stopped my life as I knew it in it's tracks. I now have anxiety. It is a daily struggle to breathe, but I fight back. What freedoms I once had, came to a stand still on so many levels, so I had to shift my mindset from what I could do before vs what I can do now.
I try and find other things to enjoy to keep me staying positive and busy. I love gardening, I can't plant a garden of flowers anymore, but I can plant a few pots to water and still see beautiful flowers. (For a very short while in High School I was in a band).
I have always loved music, my voice is no longer strong enough to belt out those notes anymore, but I can sure lip sync with the best of them I bet! ; -) I bought the Body Gym off of QVC and do low impact exercises to keep my muscles from weakening.
I try to walk in stores on my good days, but will reluctantly use the motorized cart on days I struggle. I have to plan and prepare my mindset and body with anything that takes exertion, from taking a shower, to preparing something to eat, to getting dressed. It all takes breaks and preparation now.
What friend/family members provide support? How?
I am blessed to have a lot of family and friends that if I need support all I need to do is call. I live with my daughter, she is a huge part of my support. She drives me to my appointments, she knows the extent of my disease, she helps me in so many ways, and never complains. I also have a two wonderful sons, a supportive and helpful daughter-in-law, my sisters, and many friends for support too.
What is your greatest achievement in life that you are most proud of?
My greatest achievement in life for me, accepting Jesus, Motherhood, being a Grandmother, and finding strength inside myself to fight this disease inside with courage I never knew I had, and appreciate every sunset and sunrise, for each one is truly a gift.
If you were talking to someone recently diagnosed with COPD, what's some advice you would give them?
Keep on fighting, stay positive, join support groups, I have met some wonderful people going through and feeling the same way I do, and it helps to be able to reach out to them for that boost of support when you need it. Find little things to keep active, write, read, play music, go for short walks (if you can).
Be cautious during flu season. Technology is great, when flu season comes around, we now have facetime, skype, so you can still talk with your family and friends, and actually see them. Rest when you have to, and know you are not alone, reach out.
What was the hardest thing to cope with after your diagnosis?
The loss of my job, not being able to do things I was be able to do before. Asking others for help. Being on oxygen 24/7. Missing out on a lot of family activities. Having an exacerbation.
What else should we know about you?
I have a sense of humor, I love to laugh. My kids and grand kids are my world. I have a strong will and try and be the best person that I can be. I always say "Tomorrow will soon be a borrowed today, make sure you appreciate every minute of it".
Conclusion
Thank you Linda for voicing your story with COPD and showing newly diagnosed or long-term COPD patients that incremental lifestyle changes can greatly improve their quality of life with COPD. Though a restrictive and progressive respiratory disease, COPD doesn't mean your life is over.
Instead, it's about perspective and how you view your diagnosis. Seeking out new treatments, looking at the glass half full, and surrounding yourself with a strong support system can enhance the efficiency of your treatment and lifestyle quality. Now it's time for you to share your story!