Welcome to the first installment of our Share Your Story segment. Here is where you will find first-hand experiences from COPD patients just like yourself. Everything you read is from a patient's personal experience to allow you to connect on a level no one else can except for another COPD patient. Today's story is about Larry Peel, a once EMT personnel that is still working with COPD as a 9-1-1 dispatcher.
What was life like leading up to your diagnosis?
I was a very active EMT working with 911 and private services in and around Atlanta, GA. I enjoyed fishing, coaching my daughter's softball team and hiking. I led an active social life. I also smoked. A lot. That is what led to my diagnosis. I recommend that if you still do, stop. It's not worth what it is doing to your lungs.
How have you adjusted your lifestyle post-diagnosis?
Immediately after my diagnosis I turned in on myself. I became withdrawn and not nearly as active. I don't have the breath or the energy to go out like I used to, but now I do as much as I can. I utilize my portable oxygen concentrator to still go fishing with my son and to get out as much as possible. As each day progresses I feel a little stronger. I will never be "normal" again, but I am learning to make the best of what I have.
What friend/family members provide support? How?
My fiance' is my greatest friend and support. She keeps me on track with my medications, my breathing exercises and to keep me motivated to lose weight and get my lungs healthier.
What is your greatest achievement in life that you are most proud of?
My children by far. My daughter is 24 and is a mother, wife and student. She is graduating in April with a Masters in Sociology Degree. My son is 16 and looking to be a firefighter. They are both wonderful kids and my pride. I raised them both myself and am not too modest to say I think I did a pretty good job.
If you were talking to someone recently diagnosed with COPD, what's some advice you would give them?
Don't give up. It is not a death sentence. Yes it is a definite life changer, but even if you have stage 4 COPD, your life is still in your hands. Do what your doctor says, get into pulmonary rehab, sing...believe it or not it is good lung exercise, and makes you feel better too.
What was the hardest thing to cope with after your diagnosis?
The fact that I had to come off the ambulance. I couldn't get in and out and run and carry like I used to. I still am in the field, just in a different way now. I dispatch the medics now as a 911 dispatcher.
What else should we know about you?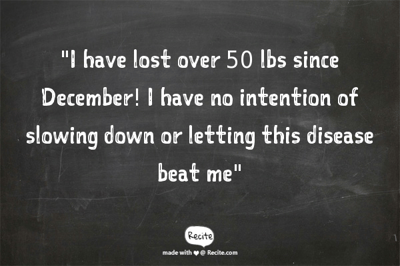 I am a fighter. I have a great job with a great employer. I am allowed to have a concentrator at work, I am getting healthier now that I have a reliable portable system and can get out and do more. I have lost over 50lbs since December! I have no intention of slowing down or letting this disease beat me.