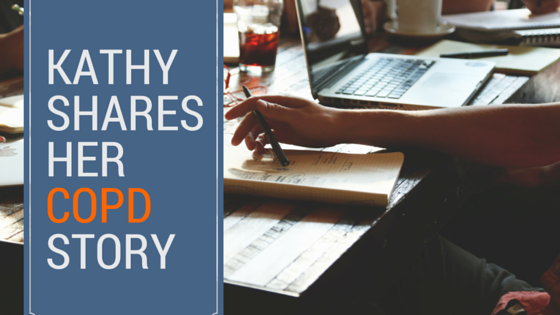 Upon the diagnosis of COPD, patients are often left hopeless and confused. Kathy on the other hand decided to take a different outlook by coping with her disease through humor and positivity. While also doing her part in spreading COPD awareness as the secretary of her COPD support group. Something every COPD patient should be involved in. Let's take a look at Kathy's life before her diagnosis and after so you can see that COPD is not a death sentence and is able to be managed. Allowing you to breathe better, reduce felt symptoms, and minimize the occurrence of disease worsening exacerbations and infections!
What was life like leading up to your diagnosis?
It was getting more and more difficult to breathe and carry out daily tasks. Not knowing why was very worrying.
How have you adjusted your lifestyle post-diagnosis?
I have adjusted quite well I suppose. Although getting progressively worse I make the effort to get out and about, especially to my COPD Group. I have to use a mobility scooter to get about but I have a hoist in my car so I can take it anywhere. Many people comment that they can't believe the way I cope and get out to events. Don't give in!!! I think a sense of humour helps too. Weird as mine is. ;o)
What friend/family members provide support? How?
I am secretary of the COPD Group and we all support each other. Family, friends and neighbours are wonderful too.
What is your greatest achievement in life that you are most proud of?
Apart from having my two sons, then three grand children :o) It must have been giving up smoking.
If you were talking to someone recently diagnosed with COPD, what's some advice you would give them?
Get plenty of information from health professionals. Do a Pulmonary Rehab course if they have them where you live, SO helpful, and join a group so you can chat to people who understand what you are going through and you can all support each other. And STOP SMOKING if you haven't already. Try to remember all the breathing exercises, they do help.
What was the hardest thing to cope with after your diagnosis?
At first it was losing my job being unable to work. These days it's not being able to visit some people. If there are stairs, end of story! Visiting someones house is often a problem if their bathroom is upstairs Help!!! :o)
What else should we know about you?
I am 67 years old, I live alone but in a lovely little village in Fife in Scotland. I am the secretary of the group so I do all the admin stuff, buy supplies, write and print a quarterly newsletter. This year I made Calendars (with recipes) and cards to sell for fundraising for the group. All that stuff is easy. Sitting at the computer doesn't take my breath away.
Conclusion
Honestly, COPD is not an easy disease to cope with but pursuing effective treatment options will increase your health with COPD and the overall quality of your life. Take the tips discussed today and apply them into your daily routine and see how much more you are able to do with COPD!