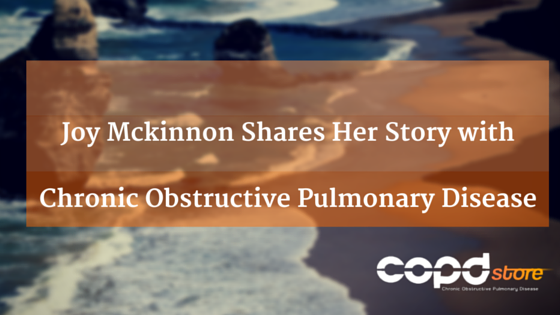 Struggling to cope with your recently diagnosed chronic obstructive pulmonary disease (COPD)? See how Joy is able to take control of the management of her COPD in the latest addition to our share your story segment. The personal advice that Joy provides can be adapted and implemented into your personal life! A diagnosis of COPD is certainly no easy pill to swallow, but advice from a patient provides a unique perspective into life with COPD that doctors simply cannot.
What was life like leading up to your diagnosis?
Before I was diagnosed with COPD, I enjoyed life so much. Went on many vacations with my kids. Was able to do all my lawn work and house work without any help. I enjoyed going to the parks and zoos.
How have you adjusted your lifestyle post-diagnosis?
It is very hard. I have to rent a scooter when I go to the zoo with my family. I can't do any of my yard work and it is hard keeping everything up in the house. I have oxygen, but the tank is heavy on my shoulder. I am only five feet tall, but I can't get a smaller one because medicare and medicaid won't pay for it and I can't afford it on my own. I don't enjoy things as much as I used to. I do the best I can. Going to programs for my grand kids is hard if I have steps to go up. I just wish I could go back and change this. I can't do near as much as I used to.
What friend/family members provide support? How?
My daughter is great. She is there to take me places and always makes sure I don't have a long ways to walk. My son takes me to my doctor visits. I am not sure they understand just how hard it is for me to breathe. My sister is very understanding and helps me as much as she can. I don't know what I would do without all of them.
What is your greatest achievement in life that you are most proud of?
I am most proud that I raised three great kids and did all of it on my own when I got divorced after twenty three years of marriage. I am also proud that I did daycare as a business for over forty years. It makes me very happy that many of the daycare kids keep in touch with me.
If you were talking to someone recently diagnosed with COPD, what's some advice you would give them?
Try to not get down about it. I just couldn't sugar coat it because it is a tough thing to deal with.
What was the hardest thing to cope with after your diagnosis?
Not being able to play with the grand kids like I used to. Not being able to walk very far without having trouble breathing.
What else should we know about you?
I have always been a very strong person, but this does bring me down. I make sure my kids and grand kids know how much I love them. I appreciate all the help I get from my family. I am scared to not be here to see my grand kids all graduate and have families of their own.
Conclusion
If you take anything from Joy's story, it's that no matter the odds you are faced with COPD, there are many avenues to pursue that will reduce your felt symptoms. Which will result in an overall improvement to the quality of your life.