Receiving the news of being diagnosed with COPD can be a tough pill to swallow. Which may cause feelings of confusion, anger, depression, hoplessness, or a combination of any of these feelings.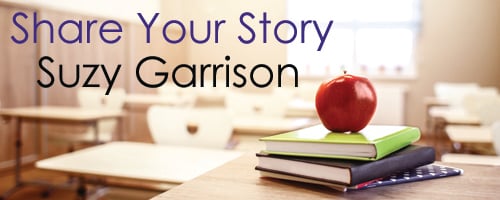 Although chronic obstructive pulmonary disease is a progressive disease, there are treatment and management tips that you can follow that will help to improve your quality of life.
Don't believe me?
Check out Suzy Garrison's COPD story below, who was once a school teacher for 30+ years and recently received the news that she has COPD.
Learn how Suzy manages her respiratory disease to help mainitain a positive outlook, so you can apply some of her COPD management techniques to improve your quality of life.
What was life like leading up to

your

diagnosis?
I was a public school teacher for over 30 years.
I taught students with learning disabilities in high school. I retired in October 2013 after yet another heart attack. I was still smoking at that time. I wanted to be more active in my community.
How have you adjusted

your

lifestyle post-diagnosis?
It has been difficult to adjust. I went to Disneyworld and Universal but had such a hard time getting around because I would run out of air if I walked more than 50 or 60 feet.
I am still learning how to do the breathing treatments. I have finally quit smoking, but that is mainly because it hurts so much to smoke.
What friend/family members provide support? How?
I live with a couple that is acting as my caregivers. They are very supportive. If they had not come into my life I am not sure how long I would have lived.
What is

your

greatest achievement in life that you are most proud of?
I guess that would be the years I spent in the classroom. I was an after school program sponsor. The program I am most proud of was the FIRST Robotics team that I sponsored.
If you were talking to someone recently diagnosed with COPD, what's some advice you would give them?
I am not sure. My diagnose is very recent.
What was the hardest thing to cope with after

your

diagnosis?
The hardest thing for me to cope with is being so dependent on others.
What else should we know about you?
I am almost 70 and I started smoking when I was in sixth grade.
Conclusion
As a COPD patient, especially if you have recently been diagnosed, reading the personal struggles of other patients with COPD can vastly help to improve your personal management of your COPD.
Because it's much easier to relate and actually listen to someone who is experiencing COPD personally.
We all have a story to share, and if you have COPD, help recently diagnosed patients see that COPD is not a death sentence by sharing your COPD story.