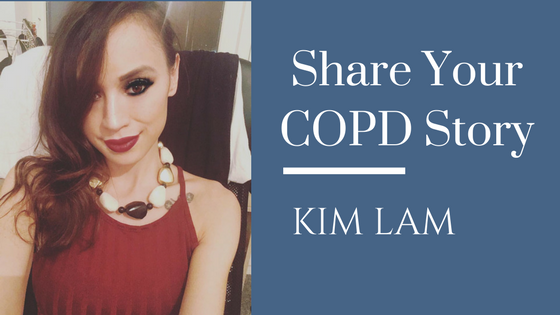 When you hear about COPD, do you first think of a young or older aged patient? Most commonly, COPD impacts people 40 years or older. However that's not to say that younger people are not affected, it's just the vast majority of patients are over 40.
In today's share your COPD story, you will hear from Kim Lam a 30 year old patient with COPD. We are excited to bring you her story so you can hear how a younger patient copes with her disease, and the steps she takes to ensure a healthy and happy life with COPD.
Now that you are introduced to Kim, it's time for her to share her COPD story with you!
What was life like leading up to your diagnosis?
Completely normal! I led a very active life going to the gym 4-5 times a week, doing dance classes, always on the go... I didn't know how progressive COPD could be and just how much it can 'creep' up on you.
How have you adjusted your lifestyle post-diagnosis?
Yes. I no longer can go to the gym as many times and I now work from home (used to live in London, but now Scotland for fresher environment!)
But I still try to lead a fairly active lifestyle where I go for walks, do gentle yoga, etc. As I know how important it is to keep supple and strong. Weak muscles require more oxygen.
What friend/family members provide support? How?
My closest family members support me, especially my parents, who have often helped me purchase expensive devices to help along with my COPD e.g. Nebulizer, air purifier, salt therapy, medications, etc.
But beyond financial support, they're second to none in emotional support, whenever I'm ill or down about it, they are always there with unconditional love and a great shoulder to lean on.
What is your greatest achievement in life that you are most proud of?
Despite having the condition, I've always been an ambitious person, so I've still been able to see and do things. I've worked and lived in London, and I still work for the Financial Times.
But most of all I'm more proud that I've now started my own blog: www.lungevity.blog to do exactly what you do: raise awareness, form a COPD community, educate others, provide information, provide solutions, advice and tips. It meant turning my experience and negatives into something positive and useful.
If you were talking to someone recently diagnosed with COPD, what's some advice you would give them?
Look at my blog for that! I would say learn to breath better, take up yoga and Pilates (not just for keeping strong and health), but staying active, socialising and feeling better.
Invest in indoor air purification as that's one thing you can control over outdoor pollution, get pulmonary rehabilitation, and connect with other COPD sufferers!
What was the hardest thing to cope with after your diagnosis?
Probably the constant respiratory infections (it affected my work, mental state of mind, energy levels etc).
Having COPD means being more susceptible and having a weaker immune system, but now I'm more informed and educated on it, I can honestly say, I manage it a lot better.
And I've been better since I adopted lifestyle changes and moved away from heavily polluted areas.
What else should we know about you?
I'm a 30 year old, friendly, loving and ambitious individual who won't let the disease take over. A COPD sufferer who runs her own blog: www.lungevity.blog and really wish to become more involved with COPD communities and others out there.
I think it's critical that the world becomes more aware, with government and politicians involved, citizens become more informed and we work together to bring about change.
Conclusion
Thank you to Kim for taking the leap and sharing her story with chronic obstructive pulmonary disease with all of you. At only 30 years old, this further solidifies the fact that COPD doesn't solely occur in older aged patients.
If you take anything from Kim's story, it should be that with hard work and dedication to improving your COPD, you can learn to live a healthy, happy, active, and high quality lifestyle.
You should also make a goal of getting more involved with the COPD community to connect with others via online support groups, or local pulmonary rehab clinics. Here you will interact with like-minded patients who know exactly what you are going through.
Now it's your turn to share your COPD story, it takes less than 10 minutes, just click the image below to share your story!