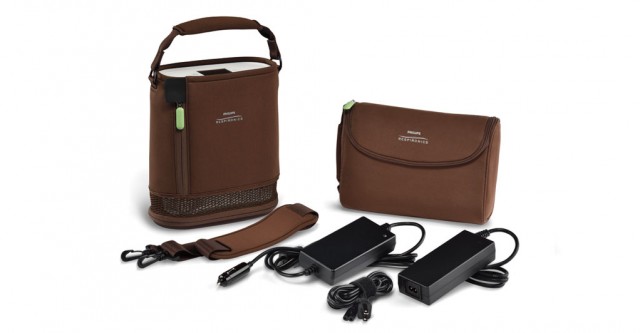 Introducing the pulse flow Respironics SimplyGo Mini, the latest installment to Respironics already quality line of portable oxygen concentrators. Unlike the larger cart based SimplyGo, the SimplyGo Mini is half the weight at 5 pounds so you can more easily carry the SimplyGo Mini in its durable carrying case or the additional cost backpack for hands free operation. Featuring a colored and touch-screen responsive control panel, the SimplyGo Mini is both easy and enjoyable to operate. Offering pulse flow settings of 1-5, the SimplyGo Mini is a feature packed POC with a minimal learning curve. Learn how this lightweight POC will improve your oxygen therapy treatment.
Lightweight & Compact Oxygen Therapy for Enhanced Portability
As mentioned above, the SimplyGo Mini weighs in at 5 pounds with the standard 8-cell battery and only 6 pounds with the extended 16-cell battery. You also won't have to worry about the SimplyGo Mini taking up too much space. The compact unit measures in at 9.4" x 8.3" x 3.6" with the standard 8-cell battery or 10.2" x 8.3" x 3.6" with the extended 16-cell battery.
Beautifully Designed & Exceptionally Easy to Use LCD Touch Screen Control Panel
Instead of designing the SimplyGo Mini's control panel with numerous buttons that often confuse patients, Respironics opted to create a more colorful and user-friendly experience. Which resulted in the intuitive LCD touch screen control panel. Everything you need for your oxygen therapy including a power & home button, flow rate adjustment, battery life, audible alarms and other SimplyGo Mini device settings are accessed with the touch of a finger.
To make operation and acclimation even easier, common symbols and actions are used throughout the menu. Minimizing the learning curve so you can begin to enjoy all the countless benefits the Respironics SimplyGo Mini will provide in your day to day life.
Customized Battery Life to Meet Your Lifestyle Needs
Let's face it everyone has different needs when it comes to battery life, often forcing patients to sacrifice battery life in exchange for less weight or vice versa. Respironics wanted to assist in this department as much as possible when designing the SimplyGo Mini.
The result? The standard 8-cell battery weighs slightly over a pound and it's still able to deliver up to 4.5 hours of operation on setting 2. While the extended 16-cell battery weighs a smidge over 2 pounds with an extensive battery life of up to 9 hours on pulse 2.
No matter which battery you decide to use, you can enjoy a lightweight package (5 pounds w/ 8-cell; 6 pounds w/ 16-cell) while still enjoying long lasting portable operation of your SimplyGo Mini portable oxygen concentrator. Imagine all you can do with up to 9 hours of battery while experiencing little strain on your body.
Find out the 3 battery charging methods that are available below..
Charge at Home with the AC Power Supply
The easiest and often most used method of charging is with the AC power supply. Equipped with an 110v power cord, the AC power supply is compatible with any conventional US or Canadian power outlets. More importantly, when charging with the AC power supply you will simultaneously receive your required oxygen flow. Keep in mind though, using the machine while charging will increase the overall charging cycle.
Charging On the Go with the DC Power Supply
If you are running errands, at book club, or spending time with your grandchildren and your battery begins to run low, the SimplyGo Mini is capable of being charged in your car through a cigarette lighter outlet with the DC power supply. When charging with the DC power supply you will have full access to all 5 pulse flow settings. As with the AC power supply, using the unit while charging with the DC power supply will increase the time it takes to fully charge the battery.
Extra Battery Charging with the External Battery Charger
Planning a long trip that requires you to purchase extra batteries? Or do you just like having multiple batteries on-hand? If so, the external battery charger is highly recommended. Featuring an 110v power cord, the external battery charger is operable with any conventional wall outlet.
Instead of having to charge your battery individually through the AC or DC power supplies, the external battery charger will allow you to charge additional batteries externally from the SimplyGo Mini. Allowing you to leave the house to catch a movie, exercise, or attend pulmonary rehab, and once you return the battery will be fully charged and ready to go.
Charging Duration:
8-Cell Battery – Up to 4 Hours
16-Cell Battery – Up to 8 Hours
Traveling Simplified with FAA Approval
The Respironics SimplyGo Mini will open up many opportunities for you that aren't available with standard oxygen tanks, but one of the greatest will having your traveling ability restored. Tanks are not FAA approved for in-flight use but the SimplyGo Mini is!
It's time that you take your much deserved vacation or go see the grandkids that you haven't seen for years due to the restrictions of cumbersome oxygen tanks. With the SimplyGo Mini your opportunities are endless, just be sure to pack extra batteries to last through your flight and all the exciting activities you have planned.
Be Alerted When Something Goes Wrong
The safety of all patients is of the utmost importance to the COPD Store as well as Respironics. To ensure 100% safety for you during oxygen therapy, the SimplyGo Mini POC is equipped with numerous audible alarms for varying failures that will impact your oxygen treatment.
Audible alarms include:
No Breath – An alarm will sound if the SimplyGo Mini does not detect a breath, signaling you to insert your cannula and breathe normally. The alarm will silent when the device recognizes a breath.


Low Oxygen Concentration – This occurs when the SimplyGo Mini is delivering oxygen at a lower concentration than what is specified. Which is at least 87% on all flow settings.


High Breath Rate – This alarm indicates that your breath rate is exceeding the capacity of the SimplyGo Mini.


Technical Fault – Two problems can cause this alarm to sound a) the battery runs out or b) the SimplyGo Mini is experiencing a general malfunction that is causing the machine to no longer operate properly.


Low Battery – You will hear this alarm when there is approximately 17 minutes of battery life remaining. Telling you to either plug in the AC/DC power supply or swap out for a new fully charged battery.


No Flow – An alarm will alert you when the SimplyGo Mini detects there is zero oxygen flowing in through your cannula.


Depleted Battery – When there is approximetly 2 minutes of battery life remaining the depleted battery alarm will sound. When you hear this you should immediately plug in the AC/DC power supply or exchange for a new battery.


External Power Failure – When using the AC/DC power supply to power or charge your SimplyGo Mini and the machine doesn't receive any power, the external power failure alarm will sound.
Available Accessories:
Standard 8-Cell Battery
Extended 16-Cell Battery
SimplyGo Mini AC Power Supply
SimplyGo Mini DC Power Supply
SimplyGo Mini External Battery Charger
SimplyGo Mini Carrying Bag (Black or Brown)
SimplyGo Mini Accessory Bag (Black or Brown)
SimplyGo Mini Backpack (Black or Brown)
What's Included with the SimplyGo Mini?
Respironics SimplyGo Mini Portable Oxygen Machine
Standard 8-Cell Battery (Additional Cost 16-Cell Battery)
AC Power Supply
DC Power Supply
Accessory Bag
Custom Carrying Case
Padded Handle & Shoulder Strap
Tubing
Manual
3 Year Warranty
Order Today!
The COPD Store is proud to be an authorized Phillips-Respironics distributor for the Respironics SimplyGo Mini portable oxygen concentrator. Order directly online or give us a call at 1-800-269-0726!
Specifications:


| | |
| --- | --- |
| Pulse Flow Rate | 1-5 |
| Weight | 5 Pounds w/ 8 Cell; 6 Pounds w/ 16-Cell |
| Dimensions | 9.4" x 8.3" x 3.6" (w/ 8-Cell); 10.2" x 8.3" x 3.6" (w/ 16-Cell) |
| Charge Time | Up to 4 Hours (8-Cell); Up to 8 Hours (16-Cell) |
| Sound Level | 43 dBA @ Setting 2; 46 dBA @ Setting 5 |
| Altitude | Up to 10,000 Feet |
| Outlet Pressure | 20 psig |
| Operating Temperature | 41° F to 95° F (5° C to 35° C) |