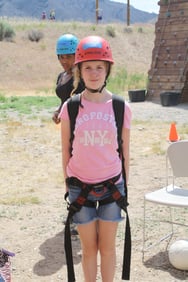 The crackle of a fire or the smell of s'mores, trigger distant memories of summer camp for the many of us. Learning to sew a leather coin purse, paddle a canoe with the skill of Pocahontas, and finding your way by the sun are summer rites of passage. Unfortunately, going to camp can be hard or impossible for a child with health challenges. Luckily there is a very special camp that specializes in ensuring that all kids, no matter their challenges or conditions, can make summer camp memories too.
Round Up River Ranch is located in a bend of the Colorado River. It is surrounded by craggy mountain peaks, sweeping landscapes, and all the beauty that Colorado has to offer. It began in the summer of 2011 carrying out the vision of actor, Paul Newman, to bring a Hole in the Wall camp to Colorado. Mr. Newman's greatest hope was that kids that had to live day to day with physical infirmities could cut loose, forget about what made them different from other kids and find support and friendship with others who were facing the same challenges. Families are often hamstrung by the financial burden of ongoing medical care so paying for a camp would be hard. As a result, Roundup River Ranch is free for all campers.
The camp is designed to give the kids a real wilderness experience and is in a wonderfully secluded area. For parents with a special needs child the fact that the nearest urgent care is 45 minutes away might ordinarily be nerve racking but the camp is staffed by some of the best physicians in the world who volunteer their time. The camp also has a medical advisory committee made up of health care professionals who help ensure that the medical needs of campers are met and safety is assured. The camp partners with various children's hospitals and organizations who advocate for these kids and reach out to the community for services and products that might be needed for those attending the camp. Each week of the camp is devoted to kids with a specific physical needs to ensure that medical specialists will be on hand to advise and handle any issues that may arise. The week of June 27th was devoted to campers with lung diseases and severe asthma. Dr. Dearding, who is with Children's Hospital in Colorado, called 1st Class Medical to ask our help for a young lady named Haley Zickafoose. Haley was born with surfactant protein C deficiency which caused interstitial lung disease, more commonly known as ILD, which requires her to be on supplemental oxygen.
Generally, Haley uses a stationary concentrator at night and carries around non-refillable metal tanks during the day. Seven days of metal tanks just wasn't feasible so they requested a portable oxygen concentrator that she could transport with her and use during camp activities. Haley was also travelling from her home in Kansas which is about 1500 feet in elevation to about 6800 feet in Gypsum, Colorado so doctors wanted to be sure that her oxygen needs were going to be met.
We made arrangements to meet with Haley and her mom, Kerry on Friday night when they got into town. They were going to spend the night in Denver and in the morning Haley was going to get on the camp bus and head for the mountains for a week of fun. I met Haley and her mom with a Respironics SimplyGo which met her needs for small and portable and could still give her the oxygen dosage she required.
I arrived at the appointed time expecting to see a teenager excited for a week away with kids her age who understood her medical challenges. Haley was a bit apprehensive about the idea of camp. She had never been before and she wasn't sure she wanted to go. "Is it true that you can't have your phone up there," she asked me. Yep, she's a typical teenager alright! Maybe my day away from the office and up at camp wasn't going to be as much fun as I anticipated. I left the concentrator and told Haley I'd see her on Monday.
The two hour drive from our Denver office to Roundup River Ranch winds through some of the most spectacular scenery in all of Colorado right through the heart of ski country and into the dramatic canyons carved by the Colorado and Eagle Rivers. I arrived just past 9 o'clock as breakfast was nearing completion and the day's activities were about to begin. Haley's group had just gone down to the docks to do some kayaking and canoeing. I wasn't sure what I'd find. I hoped it wouldn't be a sullen and bored Haley deprived of her cell phone and it wasn't! I spotted her right away! She was waiting in line with her rowing partner about ready to get into their canoe. They were smiling and laughing with the other girls in line and when Haley got into the canoe they went gliding across the small pond like they'd been doing it their whole lives. I didn't ask but I'm guessing she wasn't missing her cell phone at that point.
The camp has canoeing, archery, horseback riding, and all the other activities you'd expect a camp to have, including an awesome zipline! I watched Haley throughout the day. Her oxygen never seemed to slow her down, she didn't shy away from anything and she told me she could not wait to go on the zipline the following day. In order for me to do my job as photographer, I try to fade into the background a little bit so I can capture people acting naturally and no one feels self-conscious. As the day went on Haley and the rest of the kids forgot about me pretty much and as I was photographing the water fight, the kayak games, and spontaneous dance party in the lunchroom, and all the other laughter and good times, I got a twinge every time I remembered that every child I saw had a serious illness. You would never know it, from watching them. It made me realize in that moment just how special a place this was and I hoped that their condition was the furthest thing from their mind as well. If you want to hear what Haley had to say about going to camp on oxygen, check out her video HERE.
When I did have a few minutes to chat with Haley I found out that she is quite an accomplished photographer. I thought it would be far more interesting to let her show you what her camp experience was like instead of my view from the outside and Haley has agreed to be our guest photographer for the summer. This is the first installment of Haley's photo reports about her time at Roundup River Ranch. Stay tuned for her trip to Boston!