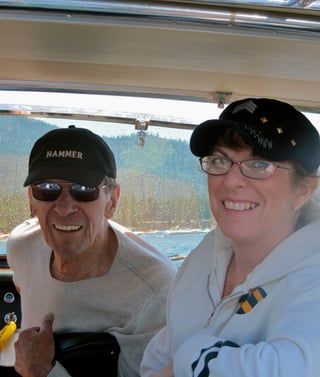 Some say that even quitting heroin is easier than quitting smoking. Back in the 50's and 60's no one knew the dangers of smoking, and there were even some ads that touted smoking as a healthy practice. It was during this era of misinformation that Leonard lit his first cigarette leading to a decades long habit. He did end up kicking that addiction but 30 years later it became evident that the damage had been done and he was diagnosed with COPD.
Julie Nimoy Shares Her COPD Story
Leonard lived a very active life being not only an actor and director, but an accomplished photographer, a singer/songwriter, and author. Despite all his professional accomplishments, the most meaningful title to Leonard was that of family man. He was deeply devoted to his wife Susan and their combined family of 3 kids, 6 grandkids and 1 great grandchild. When he was diagnosed with COPD he accepted the fact that he might have to slow down some with work.
He helped to create one of the most iconic television characters in history and had worked on many creative projects over the years that were meaningful to him. So, maybe the thought of more relaxation and free time with family was appealing to him but one of his favorite things to do was to travel and to spend time at their family vacation home in Lake Tahoe. Flying on a plane or visiting higher altitudes can be challenging for those suffering from COPD. The airlines had banned oxygen tanks on flights in the late 90's and going from sea level to Lake Tahoe's elevation of 6,224 feet was becoming tough as Leonard's COPD progressed.
The Lake Tahoe house had long been a welcome respite from the hustle and bustle of Los Angeles for Leonard and Susan and the possibility of not being able to go was difficult to face. Leonard began researching alternative treatments on his own and learned about portable oxygen concentrators.
In 2014 Leonard purchased an AirSep Focus portable oxygen concentrator. It instantly became his constant companion as he regained some of his freedom being able to fly again and most especially being able to return to the tranquility of his Lake Tahoe house.
Unfortunately as his COPD progressed, he was unable to tolerate the higher altitude and had to give up his long-time favorite retreat. It was hard on him and the rest of the family who all had beautiful memories of peaceful mountain days and fun on the boat. In this edition of Share Your Story, his daughter, Julie Nimoy talks about Lake Tahoe and her dad's fight against COPD.
Julie and her husband, David are in the process of creating a documentary entitled, COPD, Highly Illogical. A Special Tribute to Leonard Nimoy. 1st Class Medical and the COPD Store are proud to be sponsors and advisors for this important project. We need your help to get this film made! Please watch the trailer and contribute what you can. If you want to share your story with the producers of the film and your fellow oxygen patients Click Here.
And now Julie Nimoy Shares Her Story with The COPD Store.