The COPD Store is proud to announce the release of the Inogen At Home oxygen concentrator. It is the latest stationary oxygen concentrator from Inogen, the company who brought you the ever so reliable and mobility boosting Inogen One G2 and Inogen One G3. Their goal of providing the lightest possible POC was translated into the design of the Inogen At Home. Weighing an incredible 18 pounds and offering continuous flow settings of 1-5 LPM, the Inogen At Home is the lightest 5 LPM continuous flow concentrator on the market! If you are looking for a stationary concentrator in the lightest and most effective package then the Inogen At Home 5 liter is the solution.
Eliminate Your Supply of Oxygen Tanks
Being prescribed a continuous flow of oxygen may require you to have an excess of oxygen tanks, not only are they unsightly but they also pose a safety problem. Instead of calling and waiting to get your oxygen tanks refilled, spend that time doing something you enjoy becuase the Inogen At Home delivers unlimited and uninterrupted oxygen therapy. Being powerd by an AC power supply through any conventional wall outlet, the concentrator takes ambient air and turns it into medical grade oxygen automatically. The unit has the capability of saturating any oxygen patient that requires a continuous flow setting of up to 5 liters per minute (LPM).
Extended Cannula Operation
Every time you get up to grab something in another room you a forced to also lug your oxygen tanks, requring additional energy and oxygen that you may not have. Conserve your oxygen and minimize fatigue and save your energy for more important tasks because the Inogen At Home is compatible with up to a 100 foot cannula. The lenghty cannula provides you the freedom to go to different parts of your house without having to regularly move the unit.
Energy Efficient Operation
You may be hessitant to make the switch to a home oxygen concentrator in fear of hiking up your energy bill to unaffordable levels. Inogen designed their home oxygen concentrator to be the most enery-efficient unit on the market. Running with extremely low power consumption the Inogen At Home can save you nearly $300 per year in electricity costs compared to standard stationary concentrators.
Power Consumption:
| | |
| --- | --- |
| Flow Setting | Nominal Power Cosumption (W) |
| 1 | 80 |
| 2 | 110 |
| 3 | 150 |
| 4 | 200 |
| 5 | 250 |
Requires Minimal Maintenence
Cannula Replacement
Particle Filter Cleaning
Surface Cleaning
Cannula Replacement: To ensure proper operation and sanitation you should be sure to change your cannula every 1-2 weeks. In between changing your cannula, you should sanitize the tubing with warm water and soap. Just make sure the cannula is completely dry before using it again.
Particle Filter Replacement: The particle filter is in charge of removing hair and other air born irritants from ambient air before it is turned into medical grade oxygen. Cleaing the gross particle filter once a week will give it a life expectancy of up to 5 years. To clean just simply remove the filter from the unit and wash using warm soap water. After cleaning allow it to air dry competely before inserting it back into the concentrator.
Surface Cleaning: Maintian the pristine look of the brand new Inogen At Home for years by simply wiping the surface of the unit down. Get yourself into the routine of wiping down the surface of the unit using a dampened cloth with mild liquid detergent and water. This will prevent dust and other muck from building up on the unit.
Non-Strenuous User Interface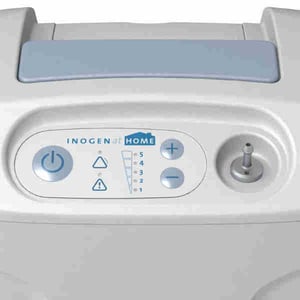 Being forced to operate a device with small and hard to read text makes it near impossible to complete a specific task. When it comes to oxygen concentrators you definitly want to be able to read the menu so you know you are receiving your prescribed flow of oxygen at all times. The Inogen At Home won't require you to strain your eyes to navigate the menu thanks to the presence of oversized buttons. Not only are the buttons easy to read but the control panel features only what is most important to minimize confusion. Featuring a large power button, flow setting adjustment buttons, a general alarm indicator and an LED flow setting indicator, you can quickly adjust your settings and get back to the activity at hand.
If you require up to a continuous flow of 5 liters per minute of oxygen therapy but don't want the bulkiness associated with standard home oxygen concentrators then the Inogen At Home 5 liter stationary oxygen concentrator should be at the top of your list. See what this energy efficent oxygen machine can do for your oxygen therapy treatment by calling 1-800-269-0726!