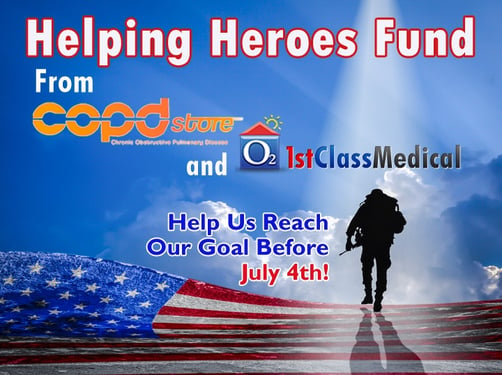 Welcome to the first installment of our Helping Heroes nomination as apart of Military Appreciation Month and our Helping Heroes Fund. The donations received to our Helping Heroes fund will all be used to give oxygen concentrators, nebulizers, home health items or mobility aids to our brave service men and women. These are nominations from soldiers, friends or family members of current or former active duty service men and women. These brave soldiers put there lives on the line in the name of freedom, and this is just a small token of appreciation for their brave service. This segment is about Army veteran Kent Snead who was nominated by Denise.
Name Of Your Nominee:
Kent Snead
Branch of Service or what they do if it's an organization:
Army
What device or piece of equipment do you think would help the person or organization you nominated?:
2nd battery for the portable concentrator we just bought.
What, if anything are they using now?:
home concentrator, inhalers and breathing treatment.
Any other part of the story you'd like to share:
Kent is a die hard. He is determined to go back to work so that is why we need the portable and 2nd battery. We both drive for a living as a team. He has been driving for 30 plus years.
Do you know a veteran, active duty solider or veterans organization that would benefit from one of our nebulizers, concentrators, mobility aids or home health items? Nominate them here or help contribute to our Helping Heroes fund by donating. Another way you can help our brave men and women is by purchasing any of our respiratory products on www.copdstore.com and a portion of all the proceeds from now until July 4th will be donated into the Helping Heroes fund.