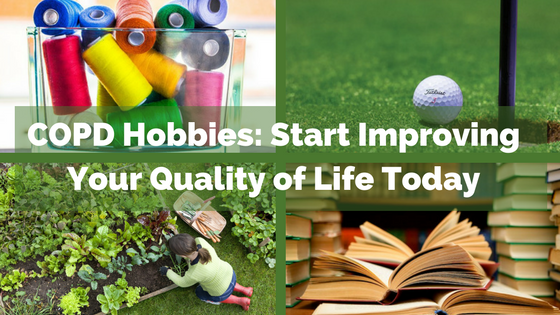 Just because you have a COPD diagnosis doesn't mean you cannot enjoy your favorite hobbies and activities any longer. Unfortunately the symptoms of COPD, such as shortness of breath, excess mucus production, and fatigue frequently prevent patients just like you from doing their most enjoyed hobbies.
But by looking at your favorite hobbies as a fond memory that you are no longer able to do, you are increasing your risk of developing mental health conditions, specifically depression.
Sure COPD and its related symptoms can prevent you from doing everything you once enjoyed, but it certainly doesn't mean all hobbies are out of the question.
Benefits of Hobbies with COPD
Free Your Mind from the Constant Worry of COPD

Discover New Sides to Your Personality

Acquire New Substantial Skills, Knowledge, and Experiences

Physical Interaction Provides Mental Stimulation

Reduce Stress and Depression

Excellent Way to Get Regular Physical Activity

Improved Lung Function

Improved Quality of Life & Self-Esteem

Combat Isolation that is Common in COPD Patients
Stop sitting back and allowing your COPD to consume the entirety of your life. Improve your overall livelihood and start living each day to its fullest with the help of these COPD friendly hobbies!
And the best part is, all of these hobbies are able to accommodate the usage of medical oxygen, whether that's an oxygen concentrator or tanks.
Gardening
Gardening provides a feeling of self fulfillment and satisfaction that you can benefit from with COPD. Whether you are a seasoned gardener or this will be your first time, harnessing your green thumb is an ideal way to get outside, stay active, and improve self fulfillment.
When considering what to plant in your garden, you should opt for flowers that bloom annually over ones that need to be replanted to avoid frequent trips to the store.
If you are having a difficult time gardening due to your COPD, we have some excellent news!
You can minimize the strain of gardening on your body by using lightweight diggers, long handed tools, a stool to sit on to prevent having to frequently bend over, a padded bench to cushion your knees while kneeling, and a wagon or cart to seamlessly lug your tools and plants around the yard.
Puzzles (Jigsaw, Crossword, Brain Teasers)
Puzzles are an ideal hobby for COPD patients just like you for multiple reasons. One being the simple fact that you are able to do puzzles until your heart is content since you will be sitting down.
So no matter if you are suffering from increased levels of shortness of breath or fatigue, you can keep your mind preoccupied and entertained by sitting down at the table and completing your favorite puzzle.
Another reason puzzles are an exceptional hobby is the endless amount of options you have to choose from that include crossword puzzles, jigsaw puzzles, brain teasers, mad libs, or word searches.
Since we are lucky enough to live in a time with technology, there are also countless puzzle apps that you can do on your mobile device.
Puzzles will not only keep your mind preoccupied from the impacts of your COPD, but they are also exceptional for cognitive stimulation, which is necessary to help fight off age related conditions like dementia.
Reading
There is no better way to escape from reality and to let your imagination run wild than by reading.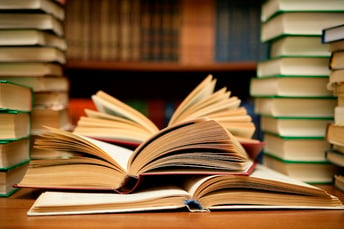 With what seems like an infinite amount of books both at the library and digitally, you will certainly have no difficulty finding a novel that piques your interests.
If your COPD symptoms allow it, head to the library or bookstore to pick up a new novel and to get out of the house for a bit.
However, if you are unable to leave the house, you should consider purchasing an e-reader like the Kindle by Amazon.
If you have an iPhone, iPod, or iPad, you can also download copies of your favorite books and read them directly on your device wherever you go.
Downloading electronic copies means you can have literally thousands of books in your pocket!
Where to Get Physical & Digital Copies of Books:
Cooking (Baking)
Have you always enjoyed the act of cooking a tasty meal for you and your loved ones? Even if you have never really considered yourself a chef.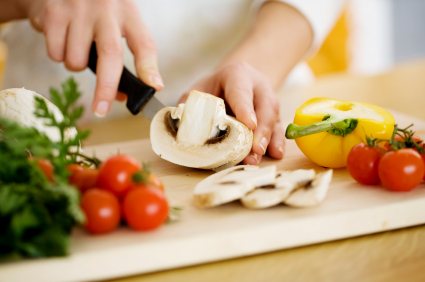 Cooking is an outstanding hobby if you have COPD.
Plus not many other hobbies provide a tasty and filling reward in the form of mouthwatering dishes that you get to indulge in.
What better way to take control of your diet than by preparing your own meals to ensure you are only eating the friendliest of foods for your COPD? Because if you are unaware, proper nutrition is a key aspect to effectively managing your COPD.
However, it's important that you take the necessary precautions to avoid exacerbating your COPD symptoms like shortness of breath or fatigue.
While Cooking You Should:
Do you struggle to stand for long periods of time? Then sit on a stool while preparing ingredients and while cooking to preserve energy.


Gather all the necessary cooking ingredients and tools beforehand to avoid having to frequently get up and walk across the kitchen to grab items.


When it comes time to clean up, avoid the urge to stand at the sink and scrub dishes until your face turns blue. Instead you should allow pots and pans to soak in the sink and return back to them later for easier cleaning.



To avoid cooking fumes from exacerbating your shortness of breath, you should open up a window to allow a constant stream of fresh air. Do this with caution, as you should only do so when pollution and pollen levels in the air are low.
Unsure of where to start your newly found culinary hobby? Don't worry, there are countless step by step recipes online that range from beginner to culinary chef! Just make sure to include COPD super nutrients in each meal.
Tasty & COPD Friendly Recipes:
Getting Out of the House



Leaving the confinement of your home can help reduce feelings of isolation, and is also an exceptional way to stay active while keeping your mind preoccupied. By allowing your COPD to keep you immobile, this can lead to your respiratory disease progressing faster.
You could visit various places of interest near your home, or meet up with friends or family for lunch.
When considering places to visit to get out of the house, you need to take your COPD and the related symptoms into consideration.
Local parks, museums, zoos, aquariums, and art galleries to name a few are exceptional places to visit with COPD. Since they tend to have plenty of benches that you can sit and rest on whenever you get tired.
Walking or Other Exercises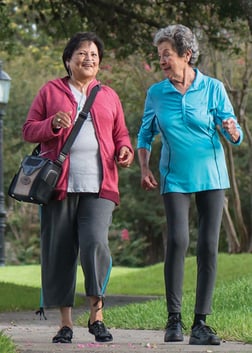 By getting out of the house for a walk, even if you start with a 5-10 minute walk around the block. If you stick to it, your strength, breathing and overall mobility will improve.
As you begin to notice that these are improving you can increase the duration of your walk by 5 minutes. With an ultimate goal of reaching 20-30 minutes, 3-5 times per week.
Exercising accomplishes two extremely important things, it allows you to free your mind from the constant worries of COPD, as you will be focused on completing your exercise routine, while improving the overall quality of your COPD in the meantime.
Just remember, when starting to exercise you should first be cleared by your doctor.
While also taking your COPD into consideration, meaning you should take it slow and remember to listen to your body and rest regularly.
If the weather does not permit you to take your daily walk outside, consider heading to the nearest indoor shopping mall and walking around.
They are ideal if you have COPD since they are warm, dry, well lit, and provide plenty of walking space. By walking around the mall you will receive your daily exercise, while enjoying the company of friends and picking up a few new items for yourself.
Walking is not the only COPD friendly exercise that you can take advantage of, check out our official guide to exercising with COPD to learn more exercises that will improve your COPD.
Regularly exercising with COPD Can:
Improve your shortness of breath

Increase energy levels

Improve sleep quality

Help you maintain a healthy weight, and much more

Strengthen your heart, lower blood pressure, and improve circulation

Enhance emotional & mental outlook
Yoga
Another exceptional COPD friendly exercise that keeps your mind busy while improving your physical health from the comfort of your own home is Yoga.
You don't have to be a yogi to experience the benefits of yoga, in fact, yoga can be adopted by people of all skill sets.
When yoga is combined with COPD, you can experience improved flexibility, range of motion, balance, lung function, and overall strength.
If you're still not persuaded to give yoga a try, check out these additional benefits:
Helps you better concentrate on your breathing and teaches you how to relax.

Lowered blood pressure

Increased relaxation & self-confidence

Lowered levels of stress & anxiety

Improved fitness levels
Try these COPD Friendly Yoga Positions:
Standing Back Bend

Seated Forward Bends

Standing Mountain Pose

Standing Side Bends
Related Exercises:
Channel Your Inner Tiger Woods with Golf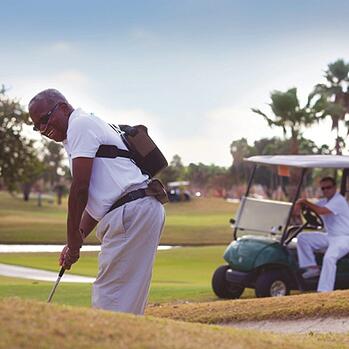 Okay so even if you're not Tiger Woods, spending a day out on the golf course combines multiple COPD friendly aspects into one single hobby.
Golfing is an exceptional sport for COPD patients because of its slow pace that still allows you to get plenty of exercise by walking between holes and simply swinging the club.
Additionally, golfing gives you a reason to get out of the house and get some fresh air, while enjoying the company of your closest friends or family.
If you are using a portable oxygen concentrator, many oxygen machines feature a hands free carrying method such as a shoulder carrying case or backpack. Which makes golfing with COPD and supplemental oxygen seamless and strain free!
Tips for Golfing with COPD:
Check the weather & avoid playing during days of extreme heat or humidity as weather can impact your COPD symptoms


Check the air quality report before playing to prevent COPD exacerbations


Avoid courses with an excessively hilly terrain as this can exacerbate your shortness of breath


Request a cart so you can sit down and rest when you get tired & so you can conserve energy to play



Stretch your arms and legs before playing so you don't over work your muscles. Which will help you to maintain a lower heart rate and a proper breathing rate
Explore Your Family History with Genealogy
A growing hobby among people with COPD is learning about your family history, this is known as genealogy.
The reason for its growing popularity, especially among COPD patients is simply due to the advancement in technology that allows you to explore your family history from the comfort of your own home.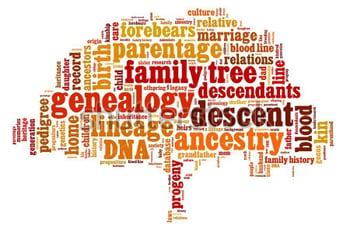 Websites like ancestry.com ask you multiple questions about your family to build your own personal family tree. Additionally, they offer a simple at home saliva DNA test that you mail in for examination.
Which according to ancestry.com, with the DNA test "You will be able to uncover your ethnic mix, discover distant and unknown relatives, and find new details about your unique family history."
If you would like the DNA test through ancestry.com, there is a price of $99.
Don't worry, if you are a beginner and would like to get your feet wet with genealogy, there are also free websites such as findmypast.com.
Whether you are experiencing exacerbated COPD symptoms like shortness of breath, or fatigue, you will still be able to hop online and explore your family history.
You'll be so excited about the wealth of new information you are receiving about your family, it'll keep your mind off of your COPD.
Learn to Play the Harmonica
Not only is learning to play the harmonica an ideal hobby for COPD patients, it's also used for therapy treatment, known as harmonica (music) therapy.
"Music Therapy is an established health profession in which music is used within a therapeutic relationship to address physical, emotional, cognitive, and social needs of individuals. After assessing the strengths and needs of each client, the qualified music therapist provides the indicated treatment including creating, singing, moving to, and/or listening to music." - American Therapy Association
By learning to play the harmonica, you will learn how to increase lung capacity, while learning better awareness and control of your breathing. When you begin creating sounds and rhythms, such as with a harmonica, they can help to reduce your breathing rates and anxiety levels.
Additionally, in order for you to properly breathe the rhythm of songs, you will need to practice a COPD breathing technique, known as diaphragmatic breathing.
Diaphragmatic breathing is widely taught to patients with COPD by doctors and during pulmonary rehab. Because it not only teaches you to control your breathing during times of shortness of breath, but it will also strengthen your diaphragm and improve your breathing.
This breathing technique applies to harmonica therapy because the diaphragm is the key to speed, rhythm, control, tone, and timing of the harmonica.
By learning to play the harmonica you will be practicing diaphragmatic breathing (something you should already be doing with COPD), you will be able to play for extended periods and essentially learn the art of breathing in the mean time.
Learn to play the harmonica today at harmonica.com.
Other Exceptional COPD Friendly Hobbies to Try:
Knitting

Ceramics

Collecting Items (Cards, posters, etc)

Scrapbooking

Learn to Play the Piano

Bowling

Search the Web (Start an Online Business)

Swimming

Online Texas Hold 'em
Conclusion
Don't allow your quality of life to decline due to your diagnoses with COPD, instead, vastly improve your happiness and management of your COPD with a new hobby!
Sure you may not be able to do some activities at all or like you once could, but with a little positivity and persistence, you can tailor your hobbies around your COPD to be just as enjoyable as they once were.
The important thing to keep in mind is to have hobbies that keep both your mind and body active. This way you are not only improving your cognitive function and getting your mind off of your COPD, but you are also remaining physically active to further improve your COPD symptoms.
Which hobby(s) do you have to take your mind off of your COPD that you enjoy the most? Let us know by leaving a comment below! I'm very eager to see which hobbies are working the best for you. :)
Is a decline in your physical ability due to COPD holding you back from doing the hobbies you enjoy most? Download our Official Guide to Exercising with COPD!