As a patient with chronic obstructive pulmonary disease (COPD) you are well aware of the impacts indoor and outdoor air quality can have on your respiratory symptoms. Until now the most effective method for checking the air quality was through the daily Air Quality Index (AQI). Which only shows the air quality outside but what about your home, office, or shopping mall? Atmotube now allows you to take a personalized air quality reader with you wherever you go. Atmotube pollution monitor is battery powered and lets you know in real time if the air you're breathing is toxic, as well as what contaminants are present in the air.
The Problem with Breathing
Did you know that every day each of us takes 20,000 breaths without thinking twice about what we actually inhale? With many of those toxic compounds causing asthma, cancer, COPD, and other respiratory complications. The Atmotube is the answer to that problem, now you and your loved ones will know in an instant if you are inhaling toxic air. This hand held device is even more vital to patients with COPD, as exposure to VOC's worsens symptoms, the Atmotube will let you know instantly if the environment is not safe.
Assessing Volatile Organic Compounds (VOC's)
Living with COPD you are faced with exposure to countless volatile organic compounds day in and day out. But what exactly are VOC's? Volatile organic compounds are organic chemicals that have a high vapor pressure at ordinary room temperature. They are emitted in the form of gases from certain liquids and solids. Common products include paints, paint strippers, cleaning supplies, cleaning products, office equipment, glues, gasoline, car emissions, and building materials (plywood, particle board).
Exposure to these VOC's with COPD can lead to worsening symptoms (flare-ups) and further progression of your lung disease. In addition to headaches, nausea, liver, kidney and central nervous system damage. Many VOC's are thought or even known to cause asthma, cancer, and COPD.
Air Quality Measurements in Real Time
Checking your local Air Quality Index is an ideal step in the right direction as a part of your COPD management, however, air quality can change quickly so you need reliable and real-time measurements. Atmotube is the answer. This tiny hand held device is so small you can attach it to your key chain, purse, or backpack. This minuscule air quality monitor functions by using the most intricate sensors, which include a unique multi-gas sensor that requires little power, fast heating times and high sensitivity. While its advanced algorithms provide support for gas discrimination, temperature & humidity drift compensation, and self-calibration.
The Atmotube will monitor the environment you are in for volatile organic compounds (VOC's), carbon dioxide (CO2), carbon monoxide (CO), temperature, as well as moisture. Use the Atmotube as an equivalent to a CO2 sensor to get the CO2 levels wherever you are. You may expect the battery life to be short, but by adjusting the Atmotube to take measurements every 60 seconds you can enjoy up to 1 month of battery life.
Real Time Air Quality Results Sent to Your Mobile Device
The Atmotube is revolutionary in itself but how are you supposed to monitor the readings? It's simple. Offering a user-friendly and beautifully designed Atmotube app for IPhone and Android. All of your air quality data is directly synced with your phone in real time for instant and historical data readings wherever you are.
The app will even alert you if your environment is not safe, signaling you to open a window or leave the room. Upon opening the app you will be shown your air quality index in real time on a colored scale of 0-100 (0 is death from toxic poisons, 100 is the freshest air), VOC in particle per millions (ppm), humidity percentage, and temperature. You don't even have to be looking at the app to see your air quality score. The LED on the Atmotube will illuminate different colors that represent your air quality score. (Red - severely polluted, Orange - very polluted, Yellow - polluted, Green - moderate, Blue - good).
By sliding your finger you will be taken to a secondary screen which will show you your overall air quality score. Which is calculated by your exposure to different air pollutants over time. You will also be shown the amount of time you have been exposed to good, moderate, unhealthy, very unhealthy, and hazardous air quality. The Atmotube app is also capable of displaying graphs of your air quality score, VOC and CO, and temperature over time.
Another critical feature is the ability to view a map of your own personal air quality data based off where you have been, or you can change to the global map to see readings from across the globe that are crowdsourced from other Atmotube users.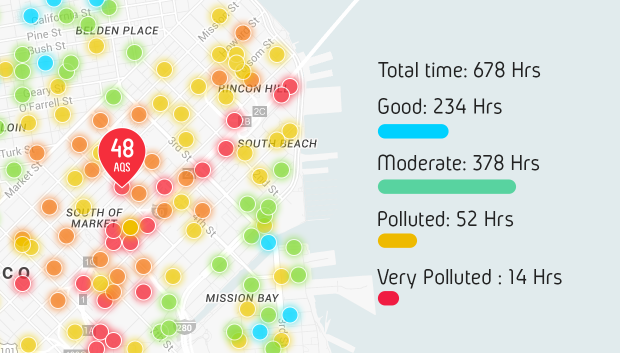 (personal map example)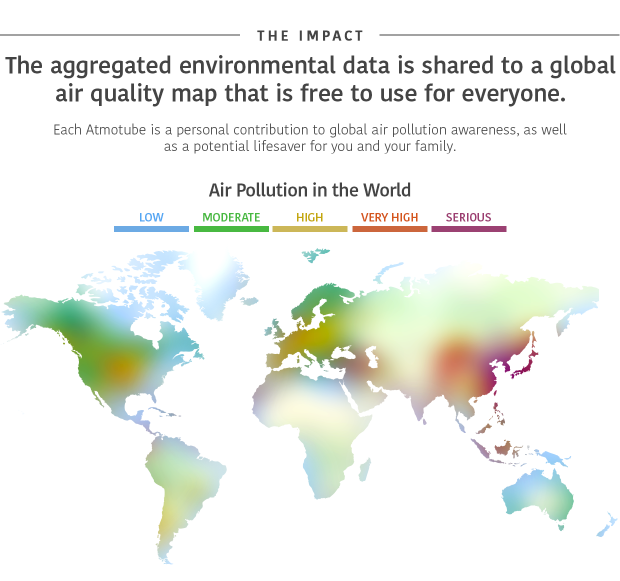 Source: atmotube.com
Operational Modes
Continuous Mode: When using the Atmotube in continuous mode there will be an air quality measurement every 10 seconds. However you can choose to reduce the frequency of measurements to increase battery life.
Spot Check Mode: If you are looking to find the exact source of pollution, spot check mode can help. By pressing and holding the button on the middle of the device the Atmotube will measure air quality each second.
Talking with Vera Kozyr the Co-Founder of Atmotube
I had the pleasure of asking Vera Kozyr the co-founder of Atmotube a few questions about this revolutionary hand held air quality reading device:
Q: How do you see the Atmotube improving the lives of patients with COPD?
A: "It's known that VOCs cause the COPD symptoms to get worse, when inhaled. Atmotube can monitor the presence of VOCs in real time and warn the patients if the environment is not safe. It can also help to understand how they can improve the air quality and reduce the concentrations of VOCs indoors, since the Atmotube reacts to the air pollution changes very quickly."
Q: What, if any, regular maintenance is required?
A: "Atmotube comes with rechargeable battery, it needs to be charged once per couple of weeks, depending on the usage mode (how often you want the measurements to be taken). Maximum battery lifetime is about 1 month."
Q: Will the exposure to specific pollutions and VOC's be stored so patients are able to share their historical data with their doctor?
A: "Yes, the history data is stored and available on graphs and on the map, so they can keep track of time and location where the were exposed to VOCs."
Q: Do you see the Atmotube becoming apart of the regular treatment for COPD? (Such as a pulse oximeter) Why?
A: "Atmotube can certainly help COPD patients to avoid air pollution, which is very important during the treatment process."
Learn more about the Atmotube in the video below:
Conclusion
Currently the Atmotube is still in its fundraising stage, so help bring this personal air quality index monitor to life and donate to the Atmotube indiegogo.com project. If enough money is raised, production for the Atmotube would begin as soon as January 2016 and shipped out in March with a price of $89. If you or a loved one is struggling with COPD or another respiratory disease, incorporating the Atmotube into your COPD management will vastly minimize the occurrence of a COPD exacerbation (flare-up) resulting in a major improvement to your overall quality of life!